Elton John Solo Tour
Munich Germany 08.07.2000
... "When stars collide like you and I" ...
for the second time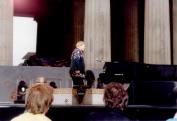 23/4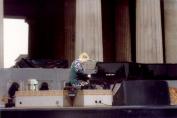 24/4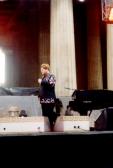 25/4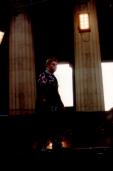 26/4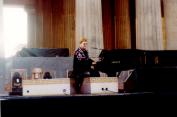 27/4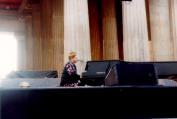 28/4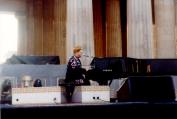 29/4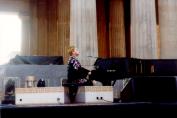 30/4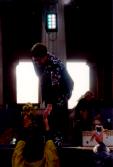 31/4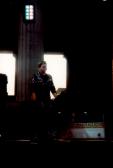 32/4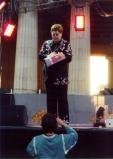 21/3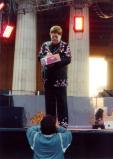 22/3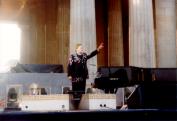 33/4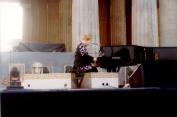 34/4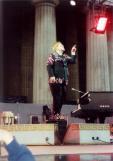 29/3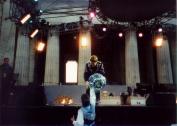 23/3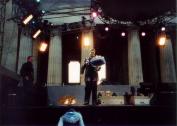 24/3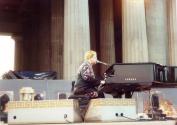 25/3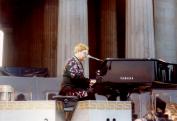 35/4 27/3
28/3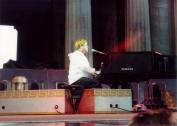 34/3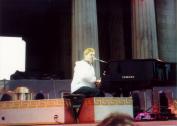 36/3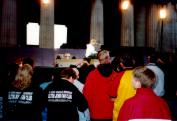 02/5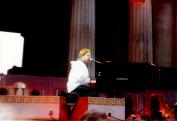 04/5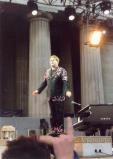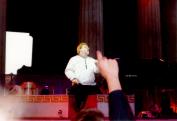 06/5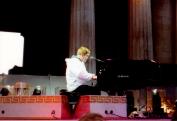 08/5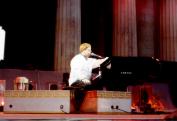 11/5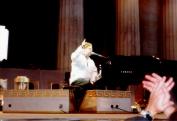 12/5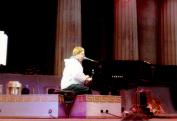 13/5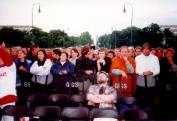 15/5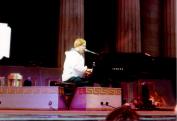 16/5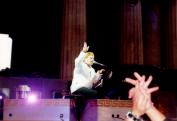 17/5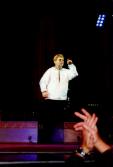 18/5
Sad that Sir Elton John had throat problems that evening.
The special seats for Rocket members and a great performance by Sir Elton John compensated the short set list!
Review of that night:
What shall I say. A great night! And a big thank you to Rocket!
But all didn't start too well for me. Because were going on vacation the next day, we had to prepare a lot of things, and left late for the concert. As it was located downtown Munich, we needed more time as expected and were late for the Rocket Backstage event. Security at the entrance of the concert was very strict, no umbrellas, and no food at all, and they also wanted to prevent me from taking my small pocket camera with me, that at no other concert someone had something against. One security guy at last said it's okay I can take it in. Arriving at the stage were we were supposed to meat for the Rocket Backstage Room everyone was gone. But harder than that in front of the stage was a barrier behind that two rows of chairs, so the first row was far away from the stage, and we had 4th row. And there was nearly no way to reach the stage, and I had a bunch of flowers with me that I wanted to give to Elton, now how will I do that, with no way to the stage. Thad depressed me more than missing the Backstage Event. The security guy, that acted like a berserk in Cologne, stopped another security guy from brining us to the Rocket Backstage area. Not our job, he told. Meanwhile an other couple with Backstage Passes was waiting with us. It took, I don't know how long, but too long, till that security guy brought himself to go to the Rocket Backstage area, and fetch someone to bring us there.
When we arrived it was no tent, as expected, instead underneath the monument, in front of Elton would play tonight, was arranged a small area to gather there, nice place. Halve an hour late nearly everything was over, we just stepped in when, someone asked whether Elton can hear his fans when they shout something towards the stage. The answer was, yes, but Elton sometimes is so much into a song that he wont realize. On the other hand Elton likes it loud, and so he wont hear it during a loud part of a song. Some jokes were maid about the high level of the sound, and the guy said, during his touring with Elton he might have lost up to 25% of his hearing potential. The question and answer section was over, and the "master of the show" asked which of us haven't been backstage, and asked the rest to stay there he only would go with the new ones, to show them around the stage and so on. The rest can sit down on the special seats in front of the stage. I didn't believe my ears, where.... No that can't be true, but it was, the two rows in front of the stage were mend for us Rocket people, not to belief, just us fans in front of the stage and no one else allowed to come in, what else do you want? Who ever was responsible for that, I want to thank him from the bottom of my heart. Never dreamed of this. We sat down, and waited for the show to start. It had started to rain, must that be, but anyway with this seats the weather didn't matter.
The show started a little later. Elton was coming on stage wearing a black suit, that had sparkling colored squares at the top of the shoulders thinning out downwards, surrounding the revere and at the rim of the jacket and the end of the trousers legs, underneath a black shirt, again no earring. He looked great, the suit fitted him perfect. The fans had their time of their life, doing one wave after the other till he came onstage, and bursting into applause when he arrived. After Elton sat down he started to talk, and there it was clear something was wrong with his voice. He apologized for having throat problems, but he will try to go through tonight. When he started to sing I couldn't here a difference. But he shorted down the setlist, and often rubbed his throat during the concert. When Elton started to sing the rain stopped. For Border Song it started to rain again till Honkey Cat, and you won't belief it for Nikita the sun came out. We were really blinded by the sun because it was behind the stage shining through the memorial. As long as the sun was there it sometimes was hard to look at the stage, no one had expected the sun and only one ore two people had brought sunglasses.
After Rocket Man Fans handed him some flowers and gifts, but Elton refused to give autographs, the only person getting an autograph had more luck than allowed. She stayed pertinacious, raisin a tour book, and at last he took it and her pen to sign, the pen refused to work, and Elton had to ask his bodyguard to give him one. He signed Elton John not only Elton as he normally does. A young girl waved during Blue Eyes with something and I needed a second to understand, what it was, and what it mend. It was a cornet filled with an artificial icecream in blue color. Really funny to think of such a pay on words. After that song she handed it to Elton, and he needed also second till he realized what it mend and grind after understanding. It was so great to know fans around you everyone clapped during rocking parts of the songs, and no one besides you would look without understanding. We had our time there.
When I sat down before the concert started an elderly lady next to me had told me that Elton loves yellow roses. I had to disappoint her by telling her that I know, and normally would have taken yellow roses, but as it was the last concert in Germany and it was in the State Bavaria where I life, I decided to take the colors of the state, blue and white. Again she tried to teach my by criticizing that there was "Schleierkraut" used in the bunch and that he hates it. I also had to tell her that I know that too, it reminds him of funerals but I forgot to tell the florist and now it was too late to change. But nevertheless it was a really beautiful bunch of flowers with blue and white roses (don't ask me how they get the roses blue, think they water them with something special) and some other flowers, hope Elton likes it, but it seamed so, as you can see on the picture where he holds it looking at it with a big smile. I handed it to Elton after Take Me To The Pilot it was a very special moment for me, one of that moments you might never forget and tell your grandchildren. I needed more time than expected to get from my seat in the second row to the stage, so Elton was already on his way back to sit down. He saw me comming with the flowers and looked at me, so that I felt sorry to disturb him, but he came to take them. He bowed down to reach for the flowers, took them with one hand and with the other hand he grabbed for my hand and brushed the back of my hand with his lips. That left my speechless. When I sat down after that the elderly lady next to me had nothing more to say. Against all odds my flowers have turned out to bee a great success.
For Crocodile Rock everyone was up on their feat and we had a lot of space in front of the stage. Elton left after Don't let the sun go down on me and returned in a blue and white jogging suit for the first and only Encore but playing three songs. Great night and hope Elton's throat gets better soon and that it is nothing serious.
Set list of that night:
Your Song
The Greatest Discovery
Border Song
Daniel
Harmony
Honky Cat
Rocket Man
Philadelphia Freedom
Nikita
Sacrifice
Sorry Seems To Be The Hardest Word
I Guess That's Why They Call It The Blues
Carla / Etude
The One
Blue Eyes
Take Me To The Pilot
Crocodile Rock
Don't Let The Sun Go Down On Me
---
Circle Of Live
Bennie & The Jets Candle In The Wind
You can contact me at:

Page built 11.08.2000