Elton John Solo Tour
Stuttgart Germany 01.07.2000
... "but I'm still standing " ...
22/1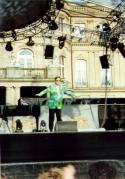 23/1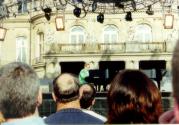 24/1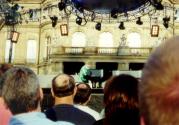 27/1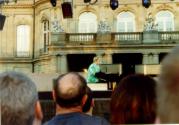 27/2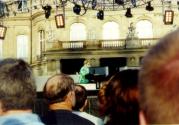 28/1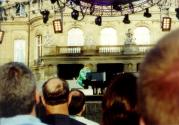 29/1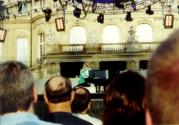 30/1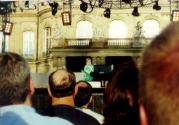 31/1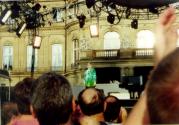 32/1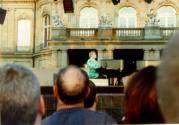 28/2
33/1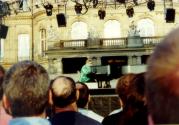 34/1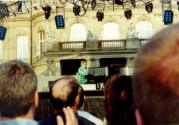 35/1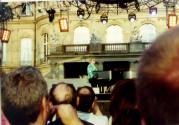 36/1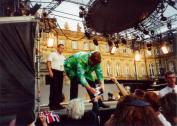 01/3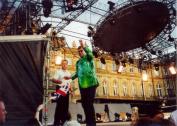 02/3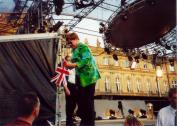 03/3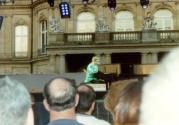 29/2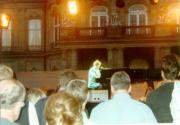 31/2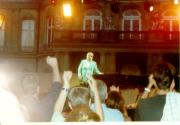 32/2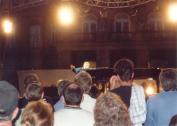 04/3
05/3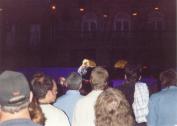 06/3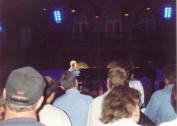 07/3
Because I didn't dare to stand up the bictures arn't so grat!
But worth a look.
Review that night:
It would have been a nice and relaxed concert if I wouldn't be a fan.
Started with being a little late for the show, and finding no parking lot. After that we had to queue in front of the entrance, a lot of people still outside made me hope that they might start the show a little later. The show started about 5 Minutes later and that was enough time for us to get to our seats.
Great seats again, the right angle to watch Elton but this time 5'th row, and in front of the stage was a barrier, couldn't see from my seats what it was, but that made the distance between stage and the first row lager than usually (after the show I saw that the barrier was protecting a fountain that was located directly in front of the stage). The scenery of the castle "Neues Schloss" behind Elton was great, it has the form of a "U" and so nearly the hole area was surrounded by these old walls.
Sad only that the audience was so stiff, a lot of elegant people in the front rows, watching me with my bunch of flowers squeezing through the narrow row to get to my seat. It was obvious that they couldn't understand what I wanted with the flowers, and if they could guess they didn't understand why someone can do that. And I realized that it would be hard when not impossible to get out again during the show. That depressed me, why was I so stupid to take flowers with me, knowing to sit in a position having 19 seats on both sides till to the "gangway", hoped to find a way.
When it was clear that Elton would appear on stage I stood up clapping my hands to honour the artist, and whoops had a finger heavily tipping on my back, while the man behind me shouted "Sit down! Sit down, we can't see" I tried to explain to him that I would sit down again immediately but he didn't care he wanted me to sit down instantly. I was to confused to argue with that guy and sat down. Don't ask me what shoes Elton wore never really saw them because I didn't dare to stand up again after a second try with the same result, a finger tipping at my back and a nearly hysterical guy shouting behind me.
Elton cam on stage in a whit jacket, and black trousers, the jacket was covered with green and blue leaves, looked a little bit like a Hawaiian shirt. Metal framed but green brown tinted glasses, and wearing that earring with the cross hanging on a ring.
Elton did a little more talking (than in Cologne), before and after the songs, telling from witch album and what the song is about but nothing that wasn't know. Carla/Etude he dedicated to the people who got crushed to death during the rock festival in Roskilde near Copenhagen the day before. The best Moment of the Concert was when a man in a wheelchair accompanied by a Lady went to the stage to hand Elton a red rose. The Lady gave Elton the rose he shook her hand, and Elton suddenly dropped himself to the floor laying on his belly to reach down to shake the hand of the man in the wheelchair. That was such a great gesture, the applause was huge.
After Tonight I grabbed all my courage, stood up took my bunch of flowers and the songbook of Made In England and squeezed back through the row. When I was through Elton started with Burn Down The Mission, I had speculated on that if he would follow the other shows after that songs there would be the autograph round and so I cowered down outside the row, and waited for the end of that song. Never knew how long that song can be played, but if you hold out in a inconvenient position, minutes get relay long. When the song was over I quickly asked a young Lady (obvious a fan, wearing an Elton shirt) whether she might be so kind making a photo with my camera for me, when I hand Elton the flowers, but she refused, telling me she wanted to take her on photos. Okay no photo, so I hurried for the stage there were only a few meters at the left and the right of the stag where you could reach the stage directly the rest was blocked up through that barriers. Elton first went to the other side and received a gift, than came over to our site. Gave him my flowers, and after he took a view other gifts he relay started to sign autographs. Lucky got mine! After that I took some photos of him signing things and returned to my seat.
It was a great seat to watch but to far away from the sage for relay good photos. It was so great to watch the sun been reflected in the windows oft the castle, behind him, now I new why Elton wore tinted glasses because when he looked towards the audience he always had to look directly into the sun. The weather was kind, it was a worm and nice summer evening, and the thick thunder clouds passed by without raining. Even I would have loved that it rained, but only over one seat that one of that guy behind me.
For Crocodile Rock people rushed for the stag, I didn't dare. But I could get up because everyone was standing now, finally it was possible to move a little, even when the space between the seats, isn't big, So most of the stiff audience was awake now, a little too late for my taste. The sun set was around Don't Let The Sun Go Down on me how fitting! For the second encore he returned in a blue and black Nike jogging suit. Thanked the audience for the flowers, gifts and cards. And after Candle In The Wind he was gone. On my way home I heard on the radio that there was a lucky girl who had won a short meeting with Elton directly after the show, and she was so exited meeting him that she wasn't able to talk to Elton at all, she confessed in the interview.
Setlist of that night:
Your Song
The Greatest Discovery
Someone Saved My Live Tonight
Border Song
Daniel
Harmony
Honky Cat
Rocket Man
Tiny Dancer
Philadelphia Freedom
Nikita
Sacrifice
Sorry Seems To Be The Hardest Word
I Guess That's Why They Call It The Blues
Ticking
Carla/Etude/Tonight
Burn Down The Mission
The One
Blue Eyes
Empty Garden
Take Me To The Pilot
Crocodile Rock
Don't Let The Sun Go Down On Me
---
Circle Of Live
Bennie & The Jets
---
Candle In The Wind
You can contact me at:

Page built 11.08.2000